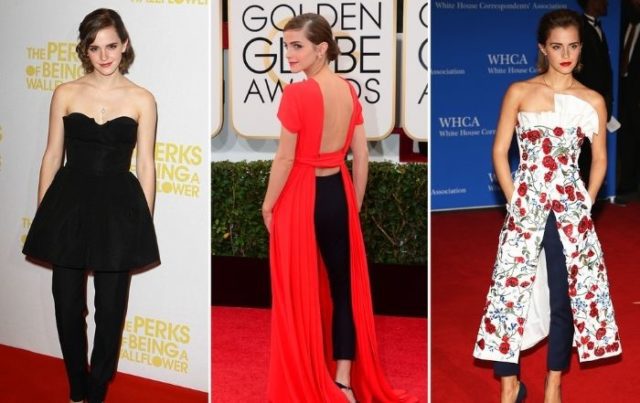 As we all know the British beauty, Emma Charlotte Duerre Watson was born on 15 April 1990 in Paris. She is an English actress and popular for her roles in blockbuster movies and for women's rights work.
In acting, she trained herself at Oxford. her very first role as Hermione Granger in the Harry Potter film series in which we all already fancy her. She starred in Beauty and The beast (musical romantic fantasy) which ranks among the highest-grossing films of all time. Emma's latest movie was Little women (2019).
she really has a very good fashion sense that's why today we are gonna see the best looks of Emma Watson on the red carpet. so Shall we?
1. Met gala – 2015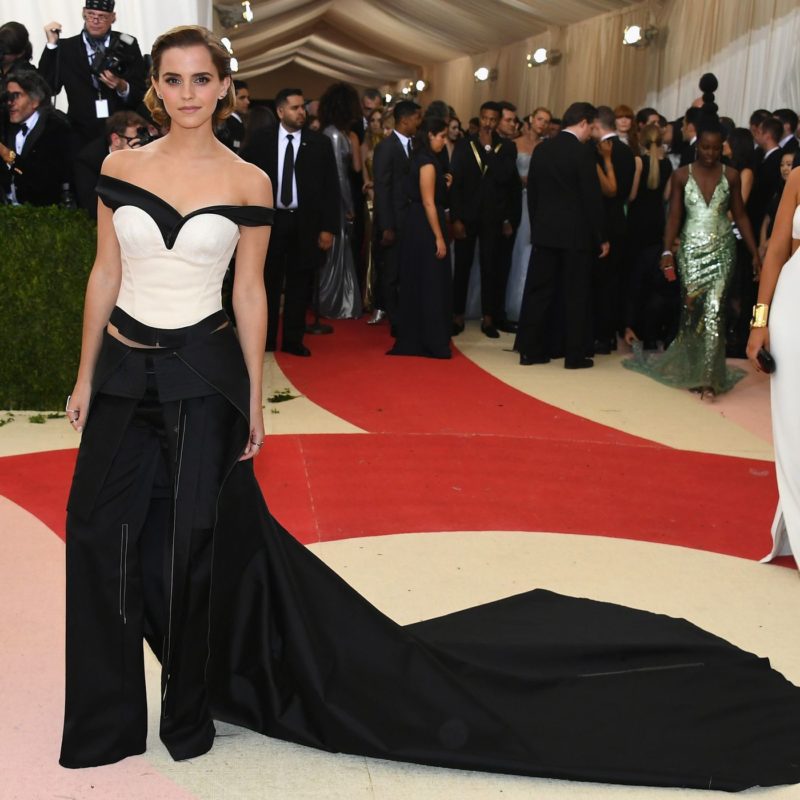 As we can see in the picture above, Not only she is drop-dead gorgeous in this outfit but also there was a secret Eco-friendly message that Watson gave through this number.
At met gala's, she shocked everyone by wearing an outfit that was made of nothing but garbage. Her spectacular number was provided by Calvin Klein and Eco-Age. she was exquisite in her off-shoulder fitted bustier with black pants attached to a long train made entirely from plastic bottles.
Watson wrote- Altogether, the look was made of recycled materials for the zippers, organic cotton, and organic silk as well as plastic water bottles, which were broken down and used as threads.
2. Beauty and the beast premiere (2017)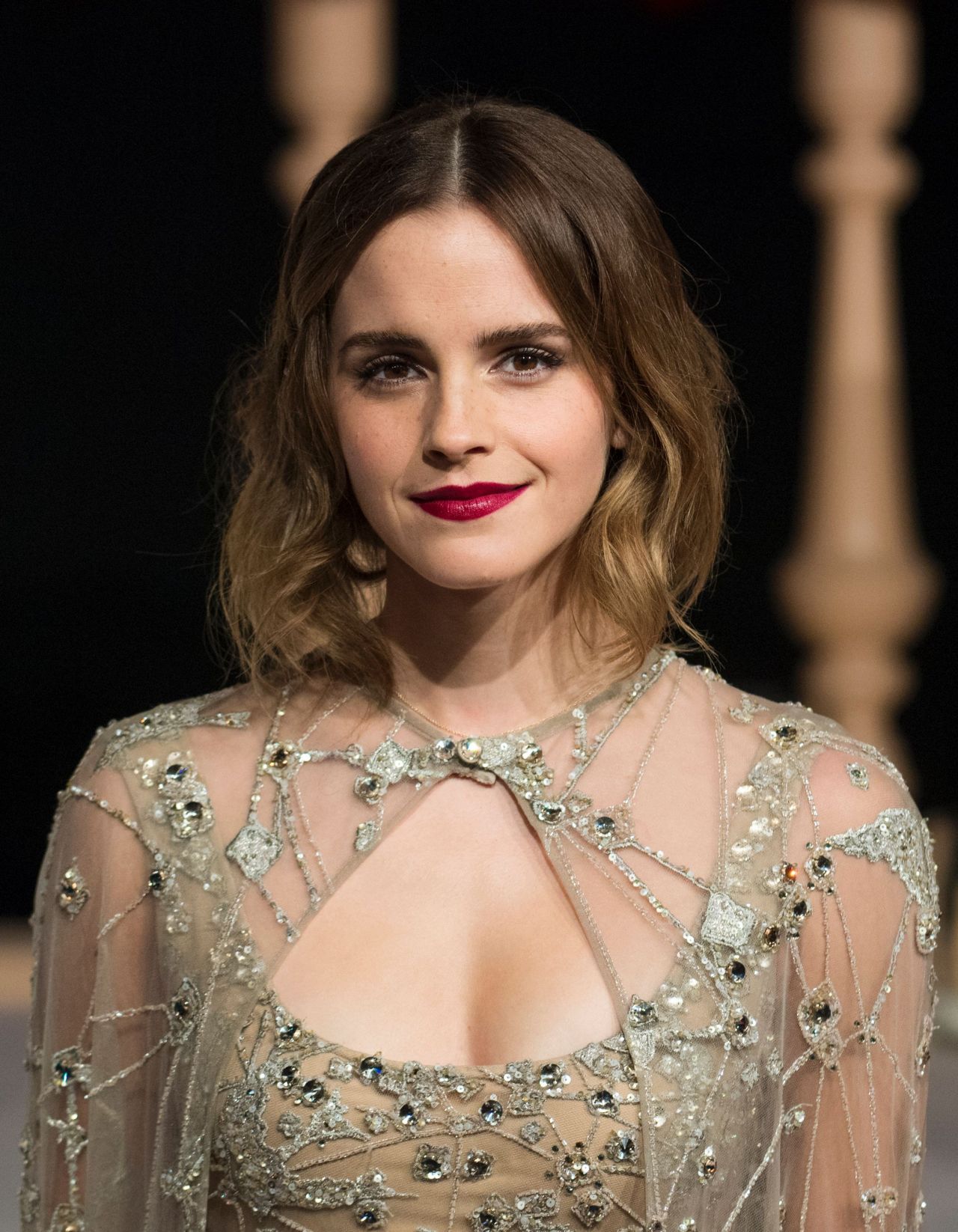 This picture above was captured from the Shanghai (China) tour where Watson went for the premiere of her musical romantic fantasy movie- Beauty and the beast.
Here, we can admire her in her glittering soft Ellie Saab couture creation in tulle and crepe Georgette, embroidered with silk thread, beads, and stones. She showed her look like a princess of a fairy tale which completely reflected her movie's scenario.
Watson's this number appeared to be Eco friendly as it showed Emma's environment-conscious efforts, and proved how responsible she is for her #Earth duties.
3. Golden Globe Award- 2014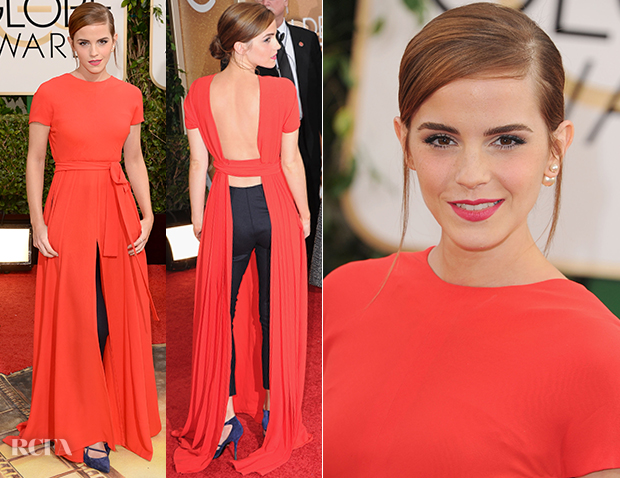 Emma Watson: "You wouldn't understand" at the Golden globes most 22-year-old-Night.
Watson wore a Dior Couture dress with an open back and pants below. From the picture above, the view of her glittering blue heels is clear. Emma had pearl earrings on and a small bun showed her fascinating attitude. Her garish make-up was a little too bright and a little too much but she was still exquisite in her outfit.
She was a little too busy to notice the other cameras around picturing her pushy face. By the behavior she was having, her being intense happy was certain.
4. Met Gala – 2010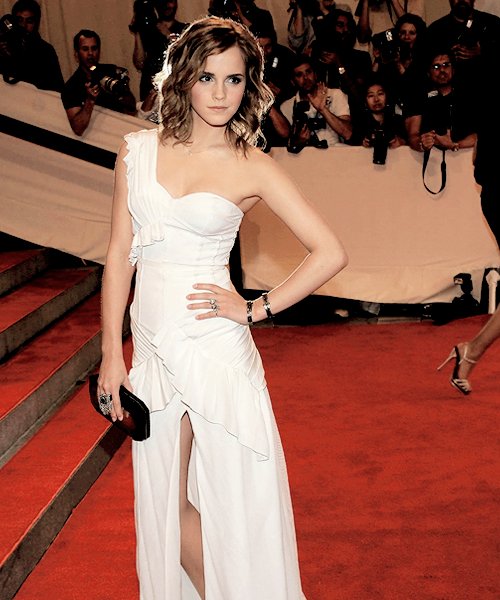 On May 2, Watson arrived on the red carpet at "costume institute gala – 2010".
As we can observe in the picture above, her one-shouldered custom made, with a central split. This number was provided by Burberry designer 'Christopher Bailey'. He created a dress that looked grown up yet not so much mature. Her light make-up and accessories include a ring, bangle, and a little stone pendant on the neckline assuring it to be the perfect look for a young actress. Asymmetrical ruffles on her gown and perfectly hair done are adorable.
I am admiring the way, She was too young to be an actress but Watson was completely confident about what she wanted and her look made it certain.
5. Oscars – 2014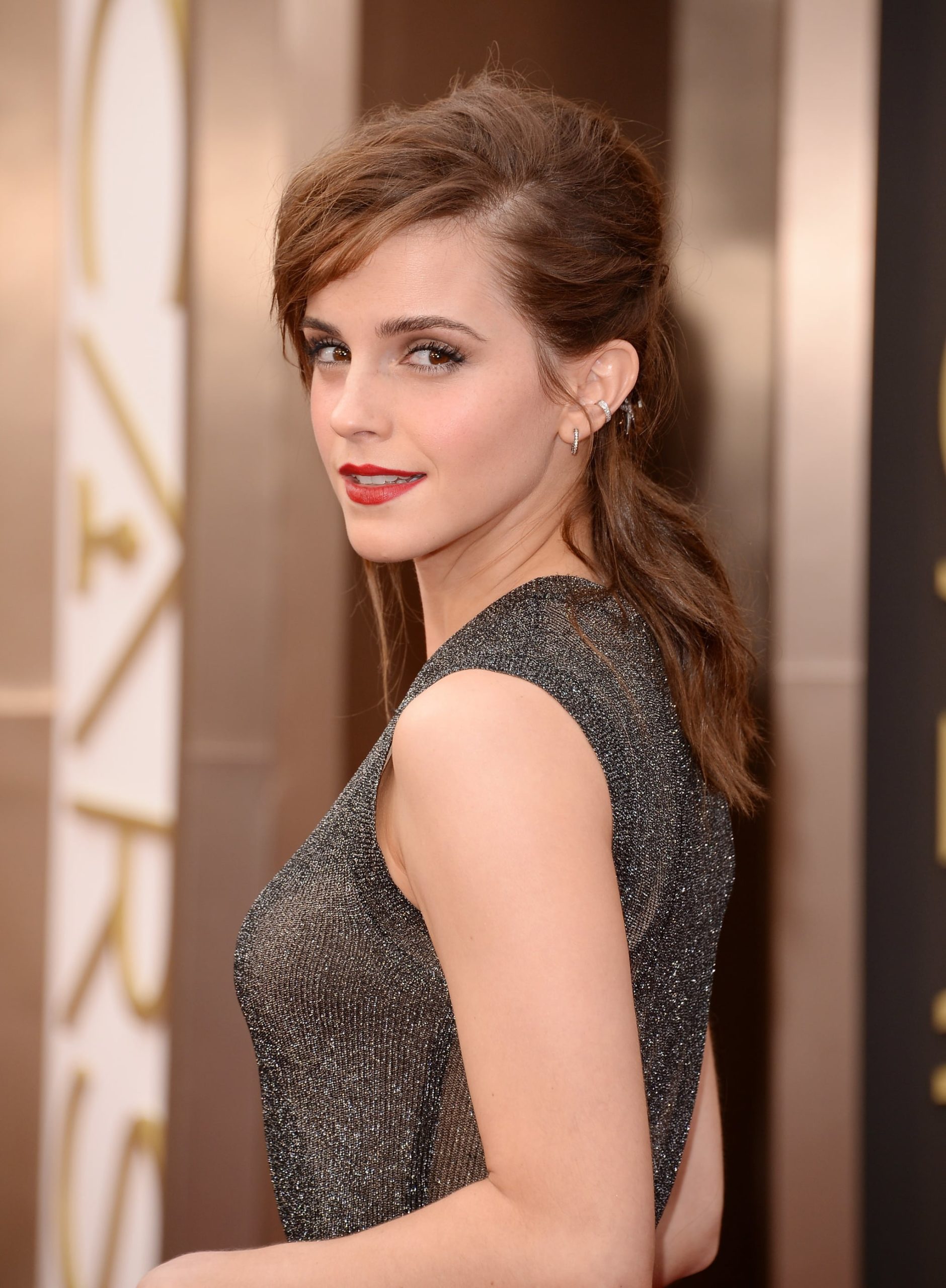 Watson made an impressive appearance at 86th Academy Awards in California. she was 23 years old at that time and her remarkable look still makes us fancy her even more and again and again.
She wore a metallic and silvery black Vera Wang gown with an Anya Hindmarch (English fashion designer) clutch, her arms were exposed due to the sleeveless design and the rest glittering gown fitted her hour-glass figure very well.
Some say she should have used another hairstyle to fit in her number, but As I say it was perfect for her appearance with little attachments making her look stunning as usual.
6. The perks of being a Wallflower premiere – 2012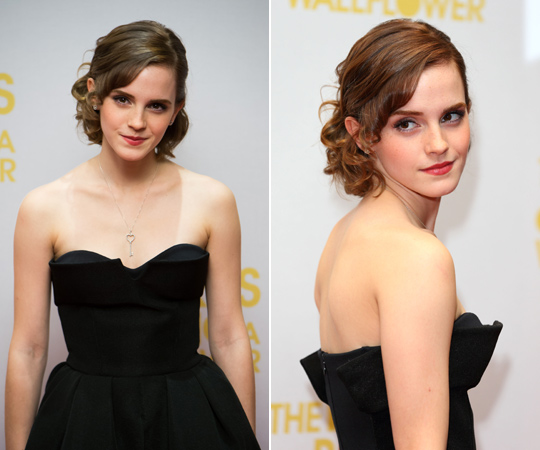 Moving on the 6th, At the London premiere of The Perks of Being a Wallflower (2012), Emma wore a Black fall Peplum suit with high black heels on. This simple but elegant outfit Watson was designed by Christian Dior.
With little make-up and red lipstick on, she had a heart-shaped key chain on her neckline and mini attachments like pair of circled diamond earrings and a chain bracelet of diamonds as shown in the picture above.
Exquisite Emma showed her simple but stunning dressing sense through this number.
7. Cannes film festival- 2013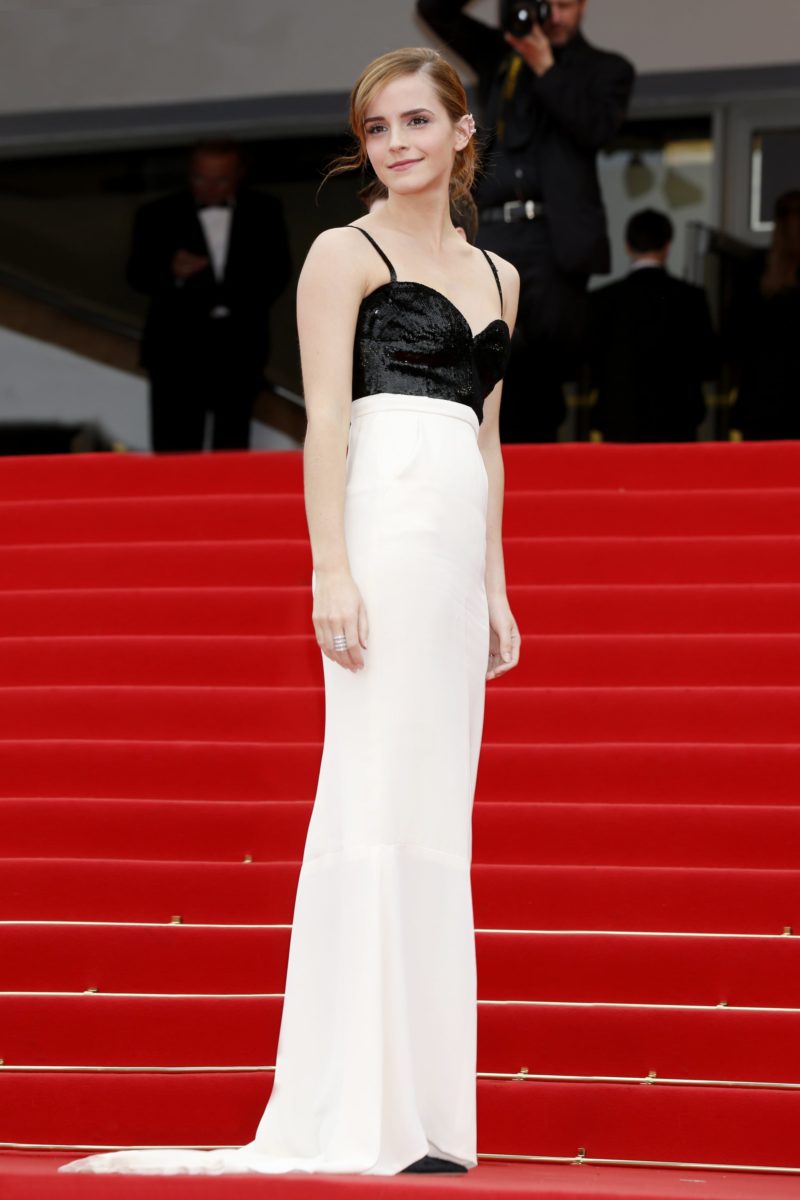 At the Cannes film festival (2013), Emma appeared on the red carpet where her statement got viral saying  "Bling ring wasn't about stealing".
Not only this but also her pretty look make us observe her even more.  She had a glamorous dress on which includes a black top cut half backless detailing on the rear end. The rest white gown hugged her body beautifully. With black heels and silver Jewellery, she made her hair locks flow in open and a brunette bun completed her look.
In last, the three sparkling cuffs on the edge were a touch of bling on her ears. All, in the end, it was the way more perfect look for me.
8. The late show – 2014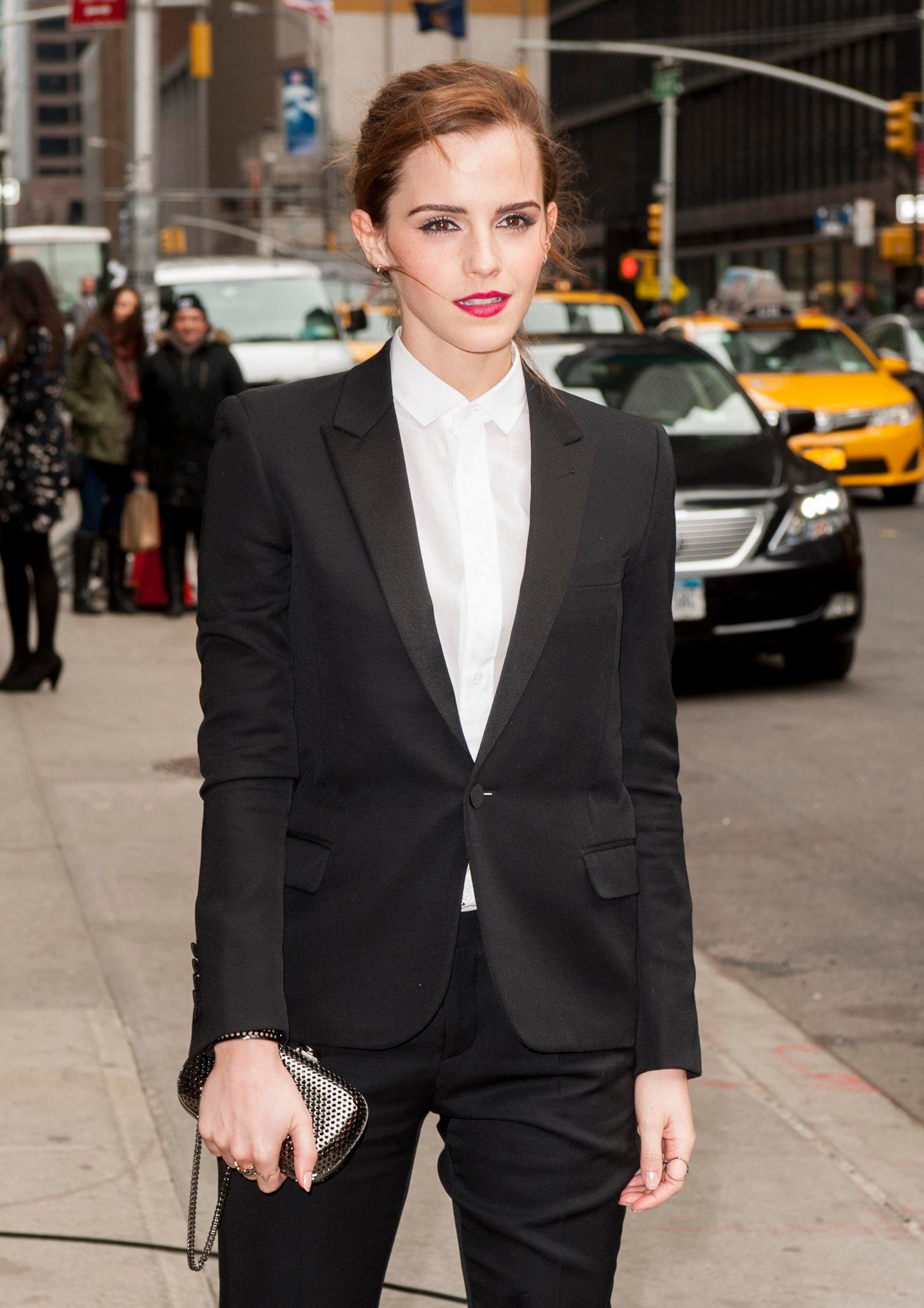 In 2014, Watson appeared in a chic suit. She always makes us wonder about her dressing style.
At The 'late show', The bling ring star teamed up with David Letterman. She was caught on cameras wearing Saint Laurent skinny black suit with a classic white shirt business type number.
Her heels were provided by  Christian Louboutin, while adding a little color, she wore mini black and silver accessories with red lipstick and the smoky eyes completes her whole number perfectly.
9. The circle premiere – 2017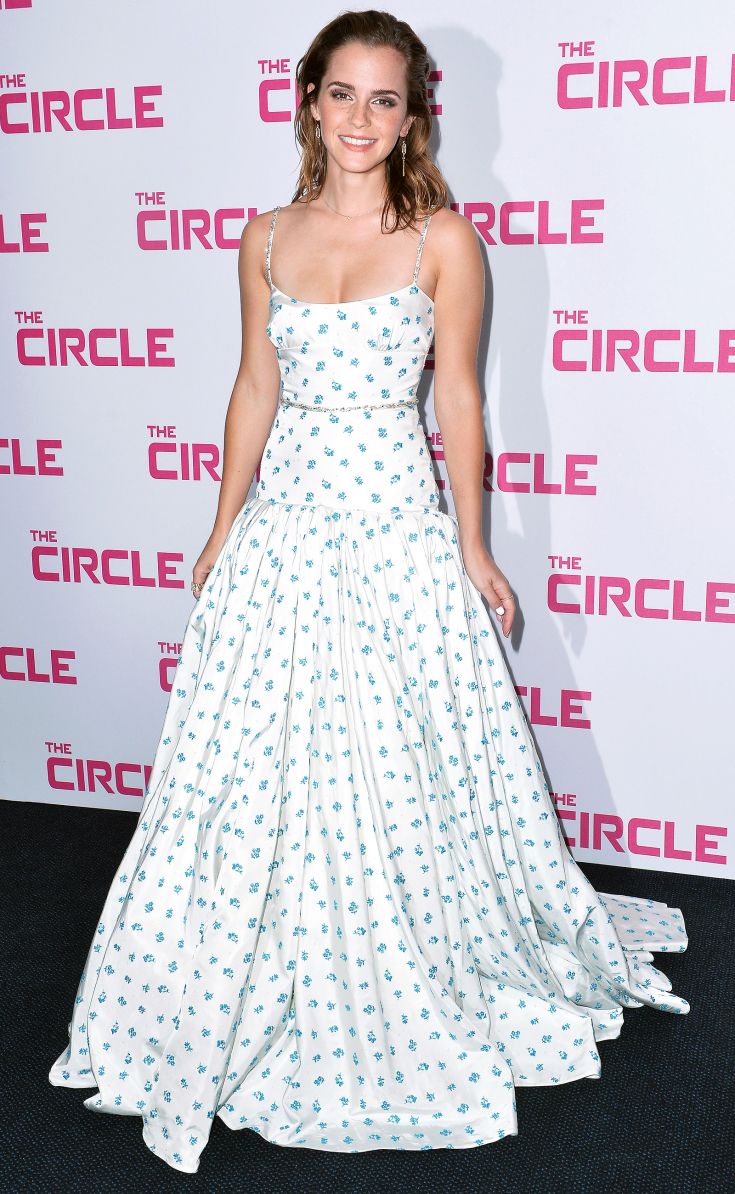 In Paris, for the premiere of 'The circle', Watson's appearance was in Miu Miu.                  On June 21, her soft satisfied outfit perfectly fitted the first day of summer. She was looking smoking hot in a floral print gown which literally looked more like a little fairy tale than most of her recent looks.
The delicate sparkles at the waistline and spaghetti straps completely hugged her well-maintained body.
In the end, Emma's flushed make-up and poufy proportions made her look certainly innocent and girly romance type.
10. The time 100 Gala – 2015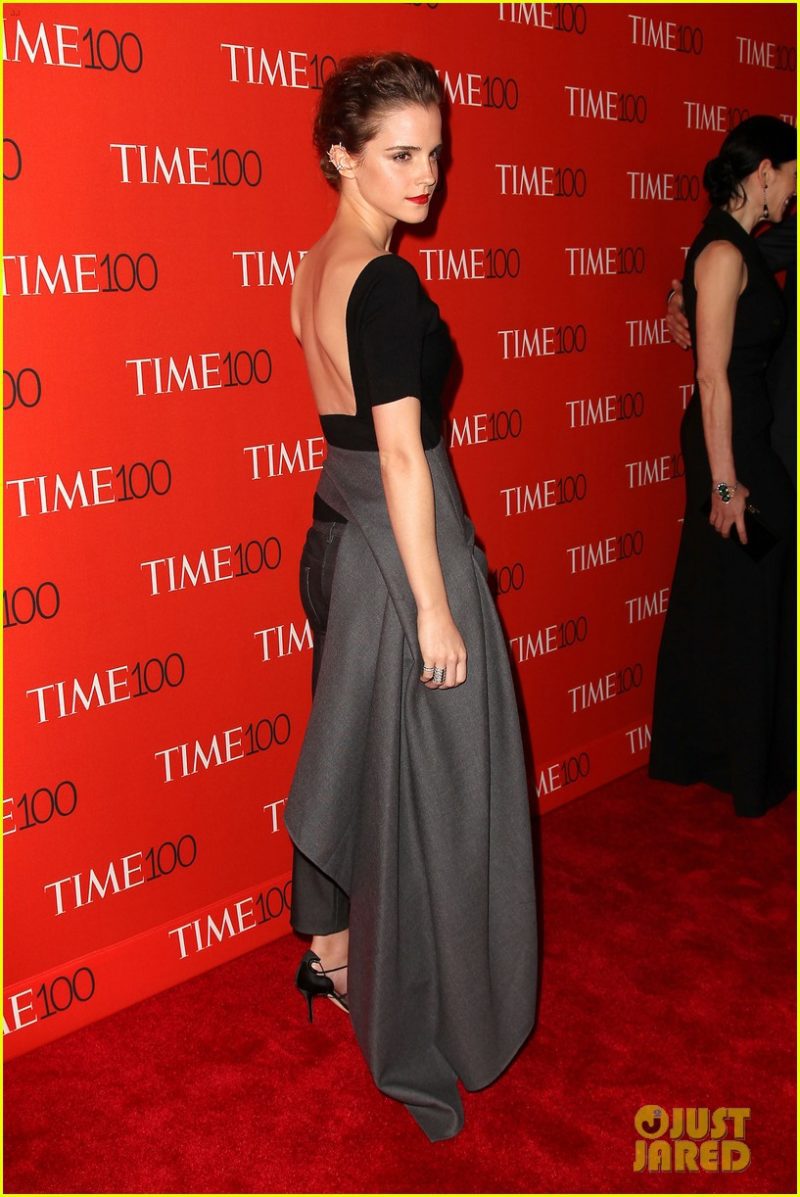 From all the looks above, this is certain that she really loves to get dressed, I mean all of her looks suited her as they were created for her only. One more thing, she seems quite fascinated about the trousers.
Watson showed on 'the time 100 Gala' with a pair of grey pants and a simple black top and a grey sash around her waist making the simple look unique enough to admire her.  It was like almost a skirt around her waist
She accessorized her look with a pair of sophisticated satin pumps and a silver cuff bracelet. Her brunette locks were swept back off her face. And from the looks above, she certainly keeps her make-up low and natural. Black heels, brown eyes, and the last orange-reddish lipstick finished her look in exquisite form.
Read More: Woman Shows Everyone How Influencers Fake The Perfect Body On Social Media