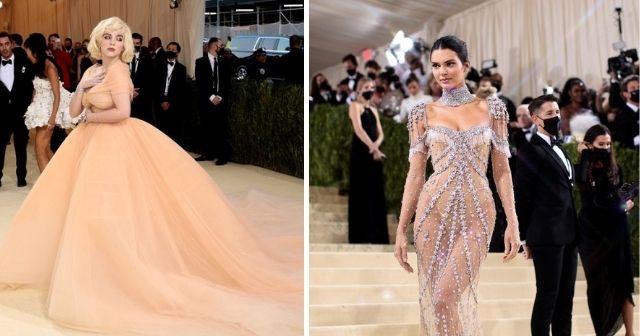 Met Gala which is considered the biggest fashion night in the Hollywood industry was filled with stars and their stunning attires. It is no doubt that Met Gala 2021 absolutely honored the creativity that fuels the industry and at a fashion night like this one, we get to see celebrities wearing creative and extravagant attires and experiment with different styles.
Each year Met Gala has a different theme and this year Met Gala 2021 was all about paying tribute to the ingenuity of the American style. The celebs do not have to wear homegrown labels necessarily but what they wear should reflect the gutsy, adventurous sartorial spirit of a true American. This kind of freedom allowed stars to get creative with their looks and the range of interpretation made this year's Met Gala 2021 an unforgettable event.
The red carpet was certainly filled with exciting and unpredictable outfits worn by celebrities who were absolutely rocking their individual styles. Some celebs chose to pay homage to their national icons while some looks took us by surprise.
Like every year, this year's Met Gala also has its fair share of viral moments, shocking celebrity outfits, unexpected looks, and stars that made us swoon, Unlike everybody's prediction who thought that the first socially distanced Met Gala could be a bad idea were immediately proven wrong.
Everybody looks forward to this highly anticipated event and we know you are eager to see the best outfits at Met Gala 2021. Now without any further ado, we are here to present you with the best-dressed celebrities of Met Gala 2021.
Check them out below:
Billie Eilish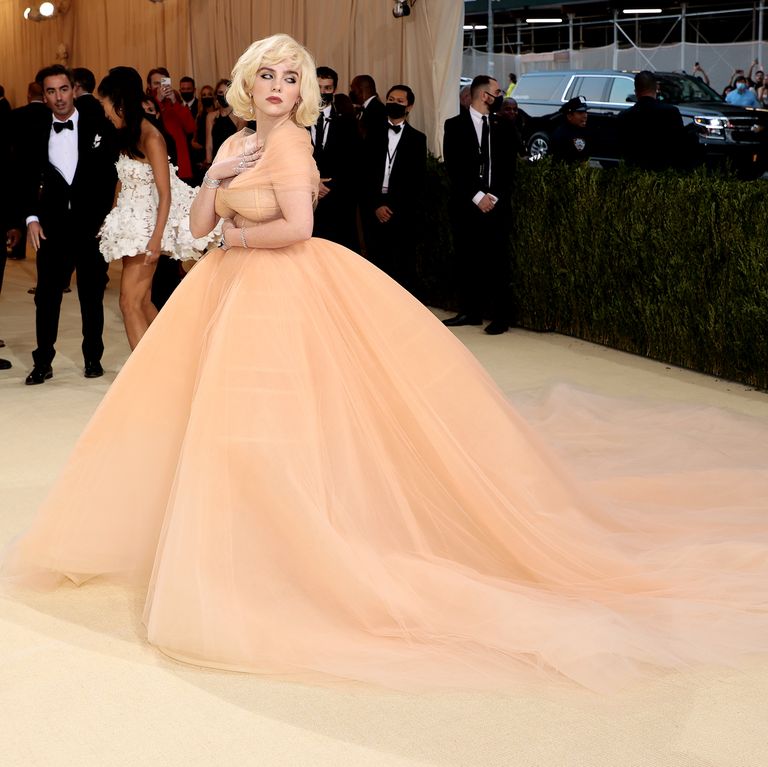 Billie Eilish, the bona fide American beauty really took us all by surprise by ditching her usual tomboy avatar and dressing up in a glamorous gown. She served as the evening's co-host and wore an attire that resembled Old Hollywood siren.
It is no doubt that Billie Eilish looked gorgeous wearing a peachy gown by Oscar de la Renta. Even though it was not her usual style, she was owning the aesthetic look.
Kendall Jenner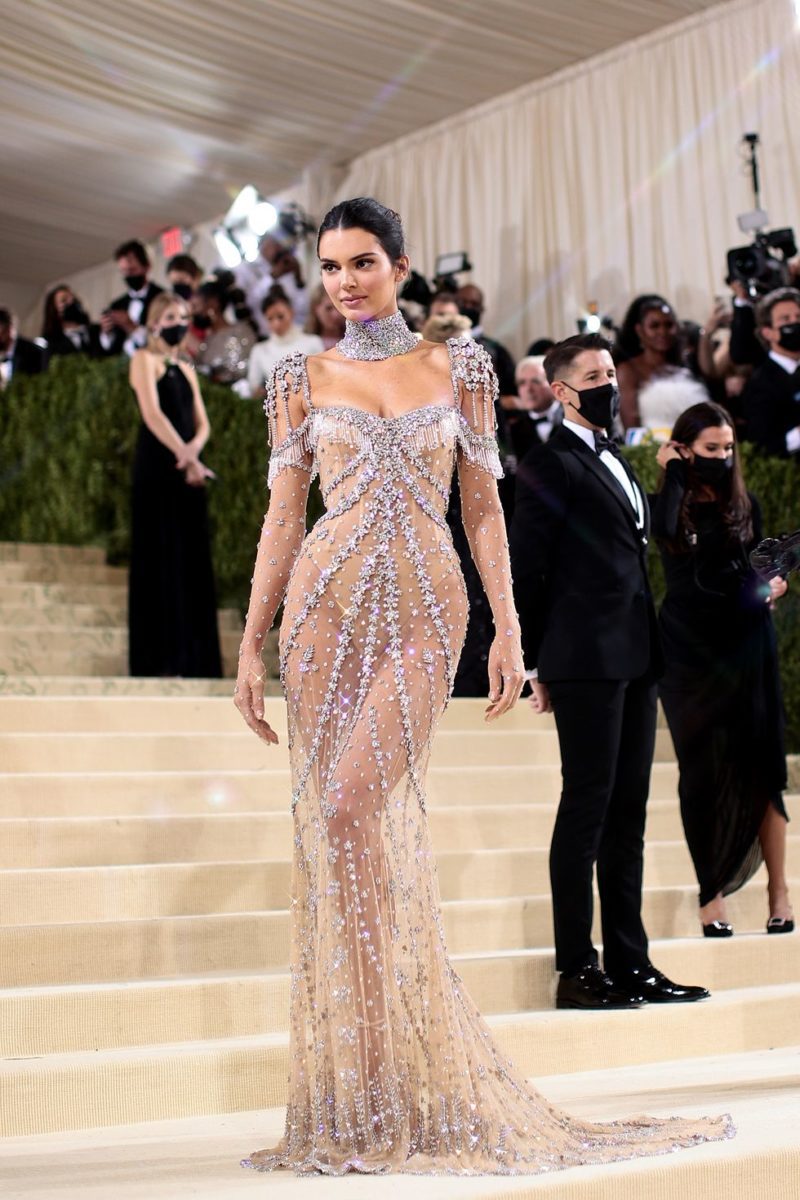 Kendall Jenner was being her usual stunning self while walking the red carpet of Met Gala 2021. She was wearing an embezzled sheer gown by Givenchy with illusion tulle. Her dress was embroidered with crystal fringe crustal flowers, and covered with a whole lot of crystals. She paired her stunning dress with matching embroidered gloves. beige leather sandals and a silj tulle bustier. Overall her dress was giving the impression of a naked dress in which she looked super gorgeous.
Rihanna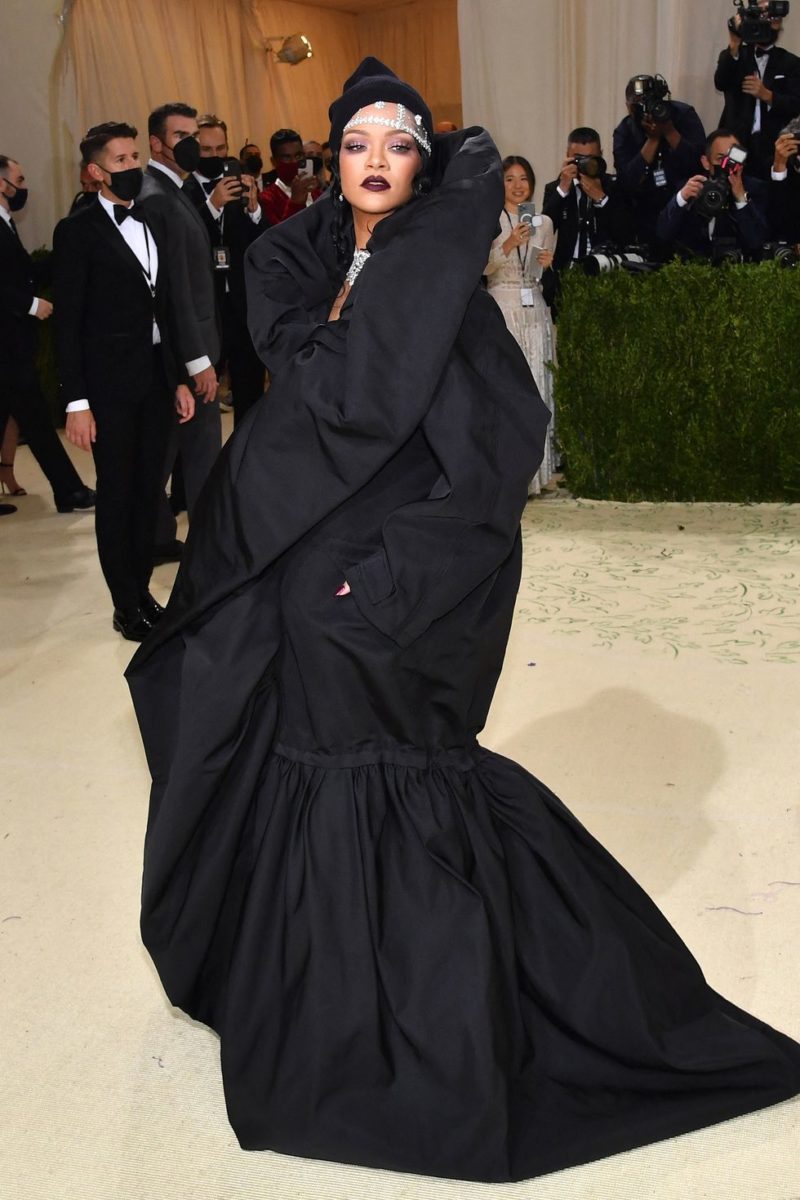 Rihanna finished off the Met Gala 2021 with her stunning avatar. She waited until the very end to make a grand entry, and everybody was star struck. Rihanna was spotted wearing a Balenciaga gown and was making an all-black statement. She paired it with a bold collared wrap and teamed it with a hat and Thelma West jewels.
Kaia Gerber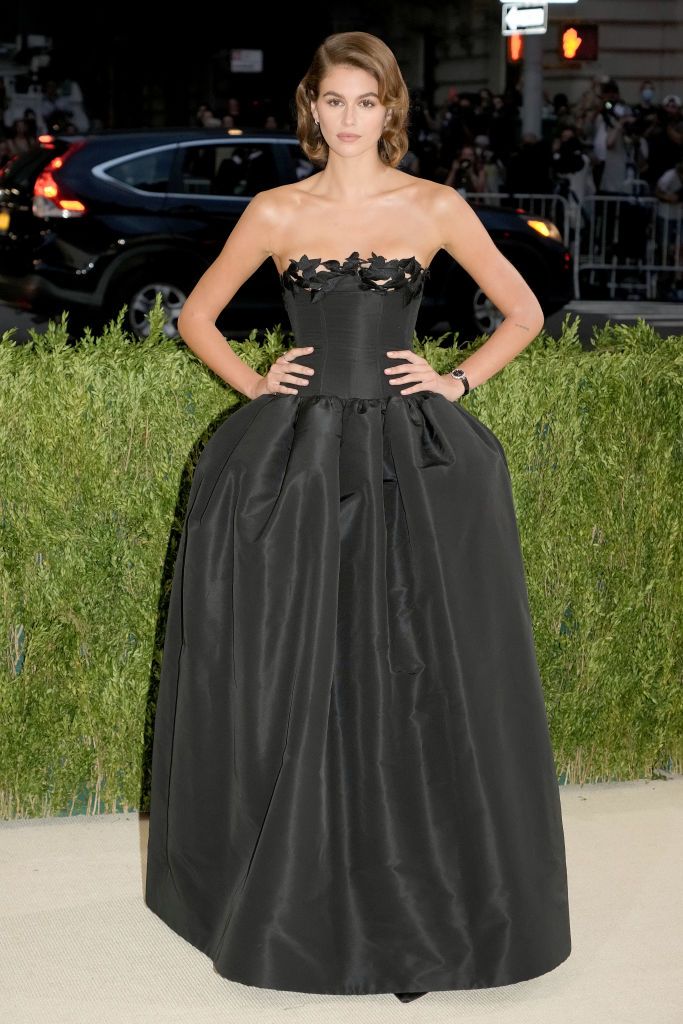 We certainly missed the supermodel at the NYFW shows, but she was saving her entrance for the red carpet at Met Gala 2021. Kaia Gerber was wearing a black strapless gown by Oscar de la Renta. As revealed by her to Kiki Palmer, who was the co-host of the event, the gown that Kaia was wearing was a tribute to a gown that was worn by Bianca Jagger in 1981 in a storied event designed by Dior.
Iman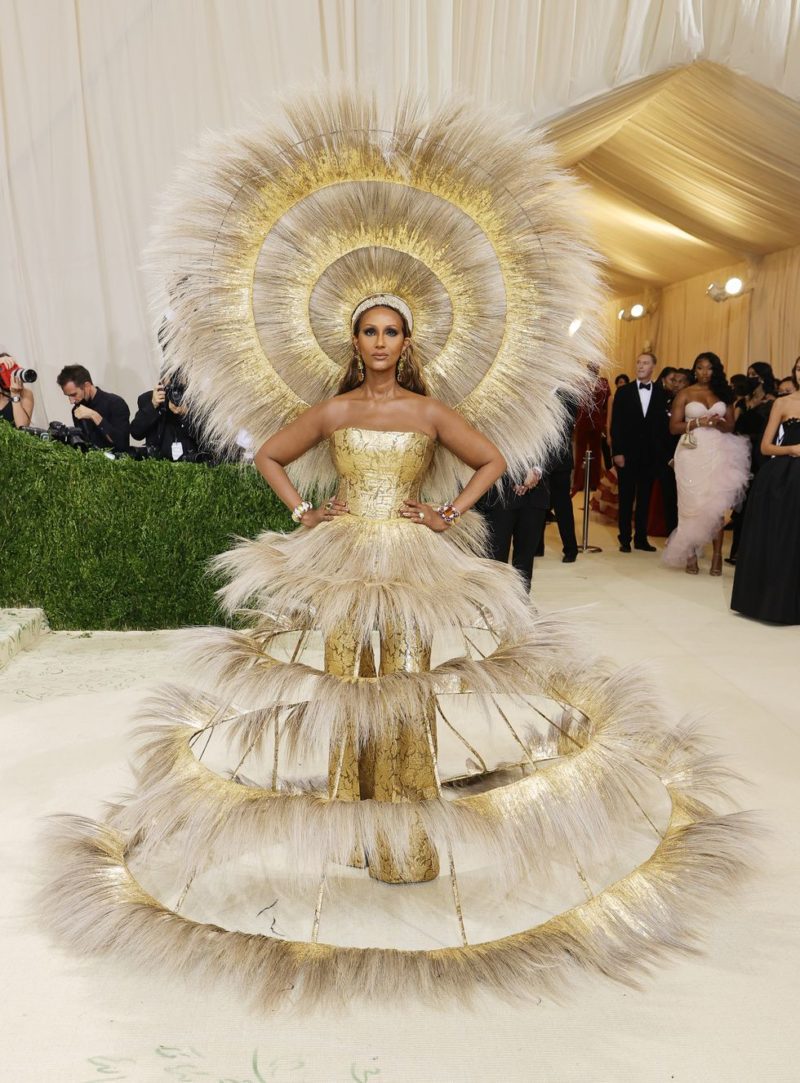 Iman made an angelic appearance wearing Dolce & Gabbana x Harris Reed. She was carrying a glamorous look by the Italian powerhouses Dolce and Gabbana along with the British-American designer Harris Reed. The custom brocade jumpsuit was accompanied by a feathered overskirt and a matching headpiece.
Yara Shahidi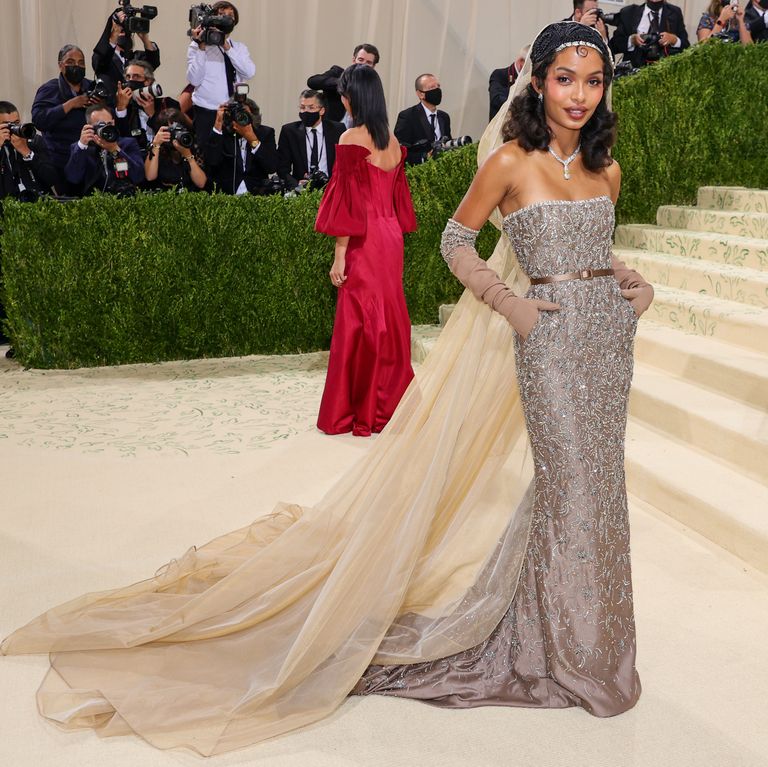 Yara Shahidi was looking like a princess in her Christian Dior attire. Her outfit was inspuired b the legendary Josephine Baker. Her beaded strapless gown along with a flowing headpiece was stealing the show. She paired her outfit with a thin belt, diamond choker by Cartier, and embroidered elbow-length gloves.
Normani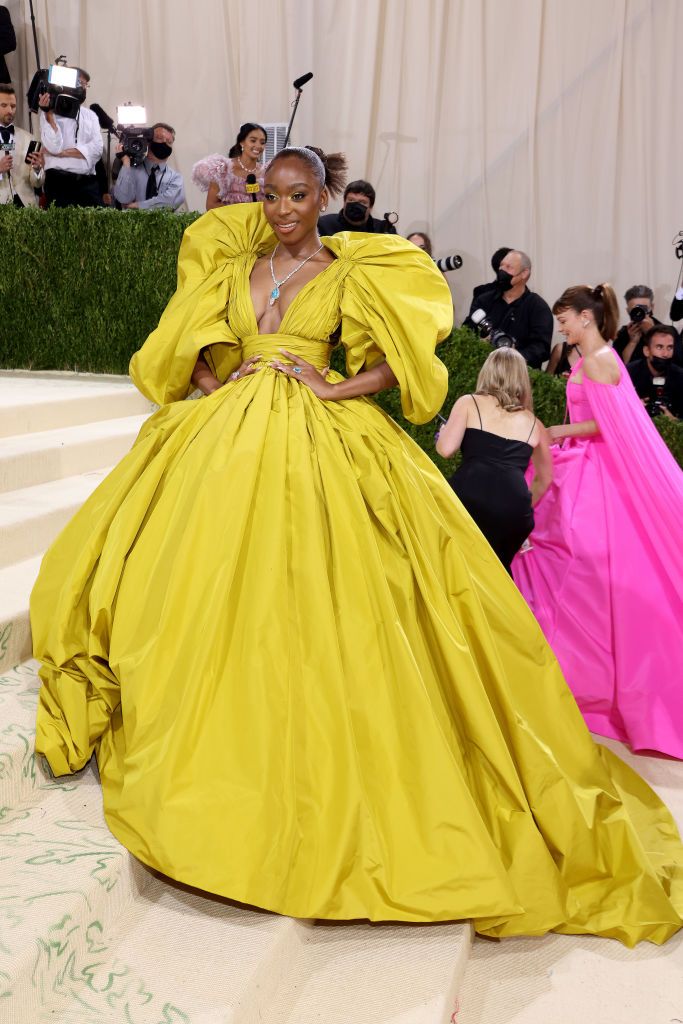 Normani in her extravagant gown by Valentino stole all the limelight. The stunning yellow gown by Valentino by Pierpaolo Piccioli. Her full-skirted cinch waist dress with bold citron sleeves in silk taffeta was paired with a statement gem neckless and a sleek bun. It is no doubt that Normani was look absolutely gorgeous and gracious and her look.
Gigi Hadid
Like every year, this year's Met Gala was also stunned by Gigi Hadid's beauty. She truly knows how to make an entry. This year her glamorous dress was designed by Prada. Her white strapless column gown with an asymmetrical bodice layered over a black bodice was giving a tribute to Rita Hayworth and Jessica Rabbit. She finished off her look with leathered gloves, a statement diamond neckless. and a tiara.
Emma Chamberlain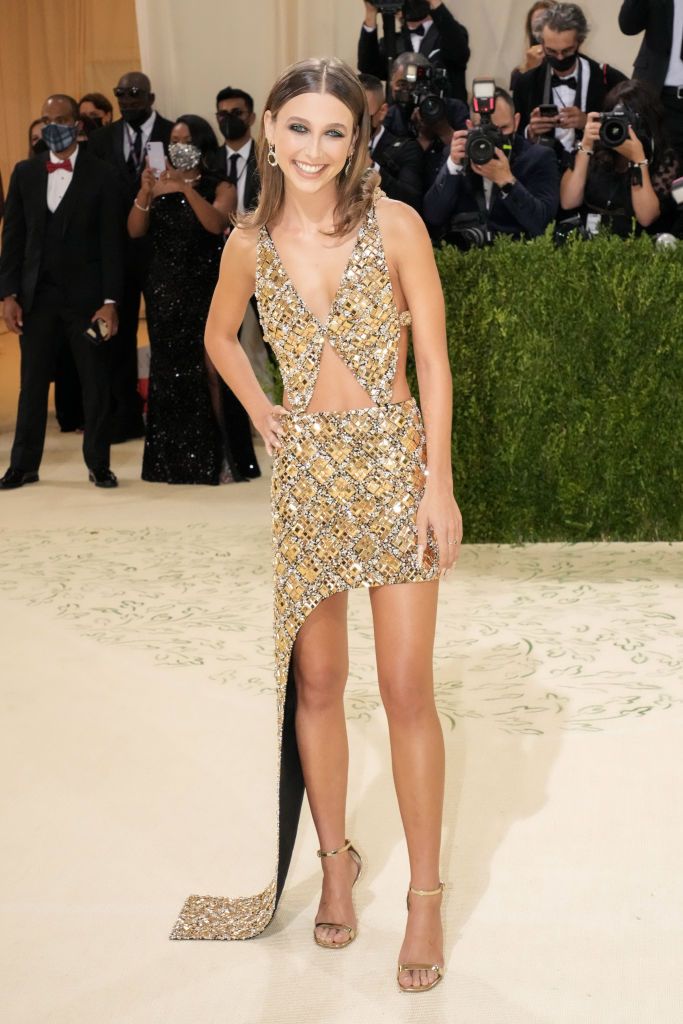 The social media star, Emma Chamberlain was looking absolutely gorgeous in a Louis Vuitton dress embezzled with crystals. The American Youtuber and an internet personality perfectly embodied the social media superstar ethos. Her 60s style mini gold dress with a mini train was paired with gold sandals that perfectly accentuated her look.
Timothee Chalamet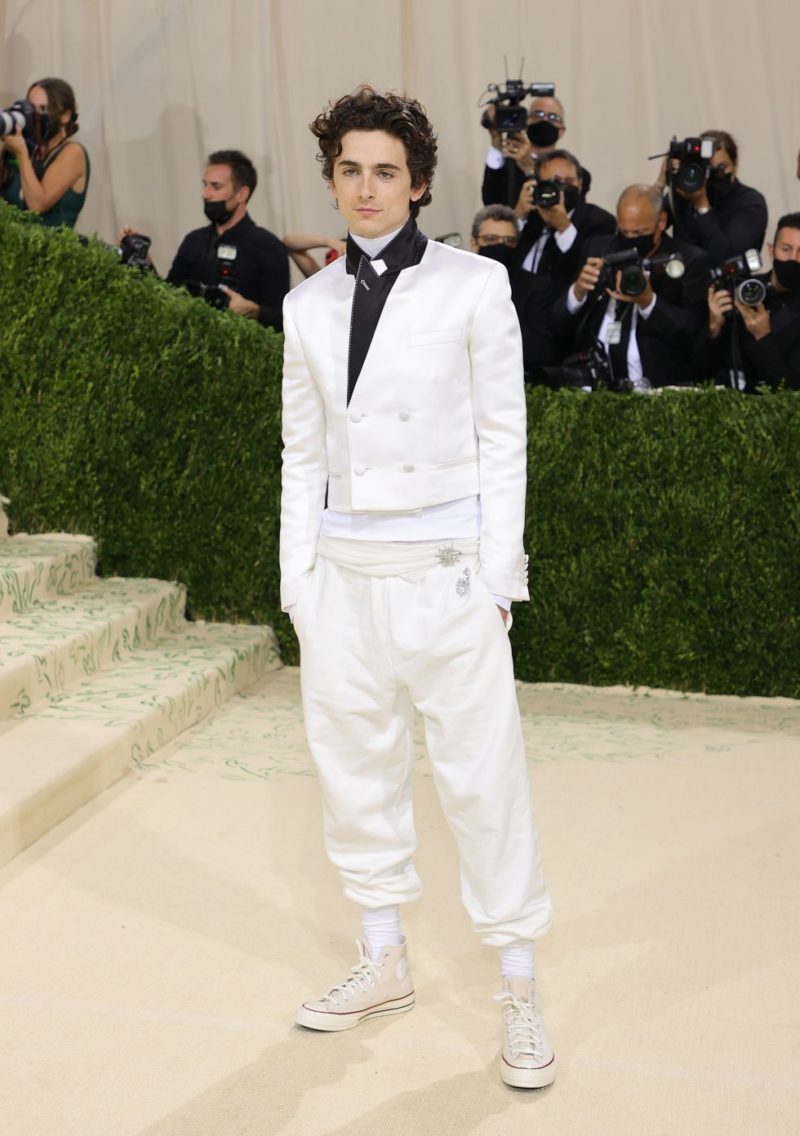 Timothee Chalamet is another best-dressed celebrity who stole the show at Met Gala 2021. He was wearing Haider Ackermann and was slaying his look in a satin tuxedo with loose trousers and a cropped jacket. His attire was accompanied by white sweatpants and Converse All-Stars. Timothee brought an indescribable comfort to the red carpet and served it with his cool vibes.
Grimes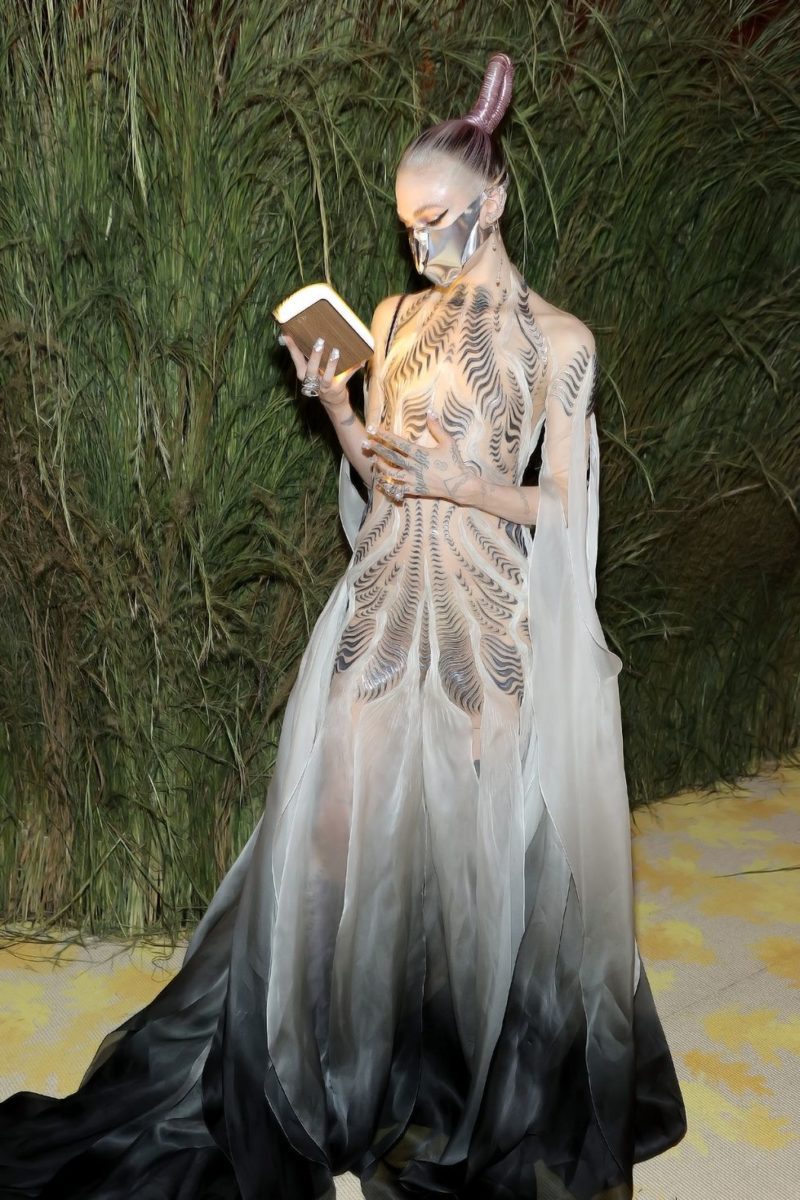 The musician who is famously known to be a risk-taker was stunningly slating the red carpet with her silk organza gown. The look of Grimes was inspired by the book Dune by Frank Herbert. The book was also later adapted into a film in 1985 by David Lynch. Interestingly the movie recently got a remake this year starring the evening's co-host Timothee Chalamet. While slaying the back and white semi-sheer custom gown by Iris van Herpen, she was wearing the original mask from the movie and posed while reading a book.
Read More: 10 Big Celebrities Who Used To Be Waiters Before They Became Famous In Hollywood
Final Thoughts
So these were all the best-dressed celebs of the evening who made this year's Met Gala better with their glamorous outfits and extravagant attires. The Met Gala 2021 certainly remained a success with these stars lighting up the evening. We hope you enjoyed reading this article, do let us know your favorite entry from the list above and who you considered as the best-dressed celebs from Met Gala 2021.